The nine 'life domains' are shown as segments in this diagram. they have been chosen as they are the main places where friendships form and people gain a positive sense of identity in the wider community.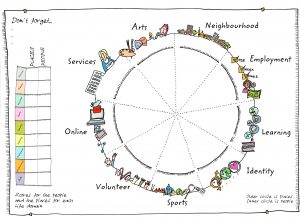 There are two circles so that the person can record both the places and people that are important to them in each of these life domains. Sometimes we spend time in a place without talking much to the other people who are there at first, so we make a 'place' connection before we make a connection with the people there.
Click here to see a presentation explaining how the Inclusion Web is completed.