This strand of my life is lived out through my involvement with St Nicholas Church, Nottingham since 1979 and on the leadership team 1984-2015. This is an Anglican Church in the city centre, consisting of people of all ages and many backgrounds who are drawn to St Nic's by its warm welcome, vibrant worship, good teaching and its vision to make Christian disciples. Sunday services range from very relaxed, contemporary worship to more formal worship with hymns and traditional liturgy. New people are joining the church all the time and visitors are always welcome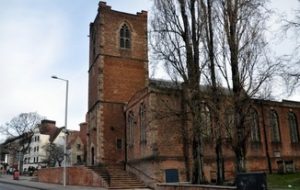 d.
If you'd like to visit, the church (pictured) is on Maid Marian Way, Nottingham NG1 6AE.
Participation in the church has given me an opportunity to explore some of the following themes:
St Nic's welcomes a diverse array of members and is developing midweek groups designed to connect with the wider community, including Open Book. This has been a wonderful place to test ideas about how to build community. Meet some of the members here.
I have had the privilege of contributing to the preaching programme at the church. There's lots of the talks from the preaching team at the church available here, with my own contributions for you to download below. I'm sorry that the sound quality is poor on some of the older recordings. Each entry below is followed by a reference to the part of the Bible that formed the basis of the talk, and they are listed in the same order as the books in the Bible, starting with Genesis and ending with Revelation.