On this page you can read an update on the efforts we have taken in support of Ian and Heather and the Magnificent Seven, and  find out how you can help with the next steps. To see the introduction, click here. If you are able to push any of these things forward, then please get in touch.
Solar panels for Ian and Heather
A pair of solar panels and the associated batteries will boost Ian and Heather's access to electrical power to 24 hours a day at a cost of £700. Thanks to everyone who came to our fundraising event on 8th June 2018, to Foxhill church and to others too. We did it! All £700 has been raised and Ian has ordered the kit for fitting when they return to York Village in Sierra Leone later in October.
Tools for the Magnificent Seven
This group of young men and women lived in a care home until Easter 2018, where they learnt tailoring or shoe-making. They were generously provided with rent when they moved out, but now need to establish individual businesses to earn money for food and clothes, as well as saving up for when the rent is due. Each one has set out their reasons for seeking help and specified the tools they need to launch their business.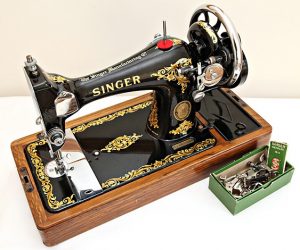 In response, we have collected a stack of hand-crank sewing machines – thanks, Clumber Hall and Doreen! Some of them have needed transportation – thanks to Steve, Mike and Mark.
Clumber Hall in Nottingham found over 150 sewing machines in their basement and we have helped to get most of them over to Tools with a Mission. Thanks to all the people who helped shift them – Dawn and Andrew, Caitlin and Elise, Sue, Karen, Martin, Tim, Gerald, Alan, Paul, Josiah, Andrew, Maggie and Rob.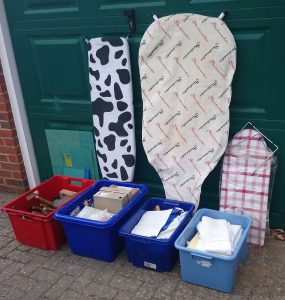 Workaid and Roger kindly donated a total of four crates of tools to the Magnificent Seven (thanks to Chris for collecting them). 
Rob from the Derby Box Company has generously given us a shipping case and then made three more for us at cost price. Meanwhile, Rick is seeking hand crank grinding wheels.
Next steps:
We have obtained a Sizzix Big Shot Plus and Andy and Doreen have supplied fabric offcuts. Amanda is making samples to show its potential use for jewellery making and tailoring.
If you have tools to donate, please note (i) we cannot use power tools, as the electricity supply is intermittent in Freetown and the voltage fluctuates; (ii) worn saws do not cut the local hardwood that is commonly in use; and (iii) we need to talk about shipping costs, so get in touch to discuss this alongside your kind offer!
Making shoes and selling flip flops
One of the Magnificent Seven, Lansana, has produced 20 pairs of handmade flip flops and asked us to help him sell them. Over the summer of 2018, they were sold in various places around the UK for £5 or £8 (or more if you want!) per pair. then there's Abu – he could make shoes if he had some lasts. Amanda, Dawn, Carol-Ann and Margaret have helped with selling the flip flops. 
Next steps:
We are trying to find out how to obtain some lasts – wood, resin or plastic pairs of 3D forms with modern size markings. It's a challenge…
Abu has also asked for a fudge wheel, but they are £30-£40 on Ebay, so we are asking around for this cunning little tool…
The Nuffield Health Gym in Mapperley have kindly donated some old yoga mats so the guys can experiment with using them in the construction of flip flop soles.
Surgery for Abu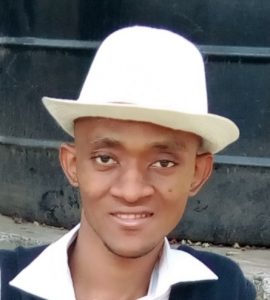 Abu is a member of the Magnificent Seven. He wants an orthopaedic surgeon in Freetown to operate on both of his legs and fit a caliper, which he believes would give him a good chance that he could use crutches for the first time in his life. Currently, he relies on a hand-crank wheelchair, but there are few pavements or lifts in Freetown, so this surgery could give him a massive increase in mobility. Surgery, two weeks in hospital and a personalised caliper would cost Abu up to £2,900.
Next steps:
In June 2018, we launched a fundraising appeal to raise funds to pay for Abu's surgery with the help of the charity Medical Assistance Sierra Leone. You can click here to see the crowdfunding page. We did it!
Now that the money has all come in, we need to check with the surgeon that the operation is definitely in Abu's best interests and local support is available before making a final decision about how to proceed. Thanks to Dr Steve for offering to discuss the proposed treatment with the surgeon in Freetown and help us understand more about the prognosis.
Abu wants to study law at Freetown university, so Andrew is looking for lawyer's charities.
We are happy to give presentations about our informal partnership with Sierra Leone, so please get in touch if you would like to invite us to your firm, community or church group.